Which countertop for the kitchen? What materials for a kitchen worktop?
Choosing countertops for the kitchen is not an obvious matter. After all, each of us has different priorities, and there are a few important elements to consider that can help you decide and choose the right material. The key considerations include, among others: the planned method of exploitation or the available budget. Design issues are equally important. In the following article, we have left the materials used to finish kitchen worktops.
At SaniWell, we deal with comprehensive finishing of apartments, along with designing and making custom-made furniture. The attached photos and visualizations come from our turnkey projects in the "walk in and live" standard
Kitchen countertops – materials used to make countertops
When choosing kitchen countertops, it is important to decide on the purpose of the kitchen: is it to be a kitchen for private use or for a rental apartment? If it was to be a rented apartment, what economic standard or maybe premium quality would we like to achieve? Do we cook often or is it a matter of course for us to clean the surface regularly? Another issue is the size of the kitchen furniture and the planned budget, because each of the solutions presented below differs in the cost of material, processing and assembly.
Depending on the expected quality and available finances, the following materials for kitchen worktops can be distinguished: laminated board, wood, quartzite conglomerate, granite, quartz sinters and composite worktops.
Laminate kitchen worktops
The first option is to finish kitchen countertops with laminate. This is one of the cheaper options in this list, although the price range of laminate worktops is huge. It is a product based on MDF or chipboard covered with a layer of anti-pressure foil and laminate, i.e. veneer. The whole is hardened and impregnated with e.g. synthetic resins. There are different types of laminates, including those with increased durability and strength called HPL (high pressure laminate).
Advantages of laminate worktops
Ease of cleaning the surface
Low price of the material
Quick assembly of laminate worktops
A wide selection of patterns, decors and colors with different textures
Ease of joining surfaces
Disadvantages of laminate countertops
Relatively low resistance to high temperatures
In the case of cheaper laminates, there is a greater possibility of scratching and damaging the surface
Problems with water and moisture in the case of imprecisely machined edges and joints of worktops
No possibility of regeneration and renovation of the material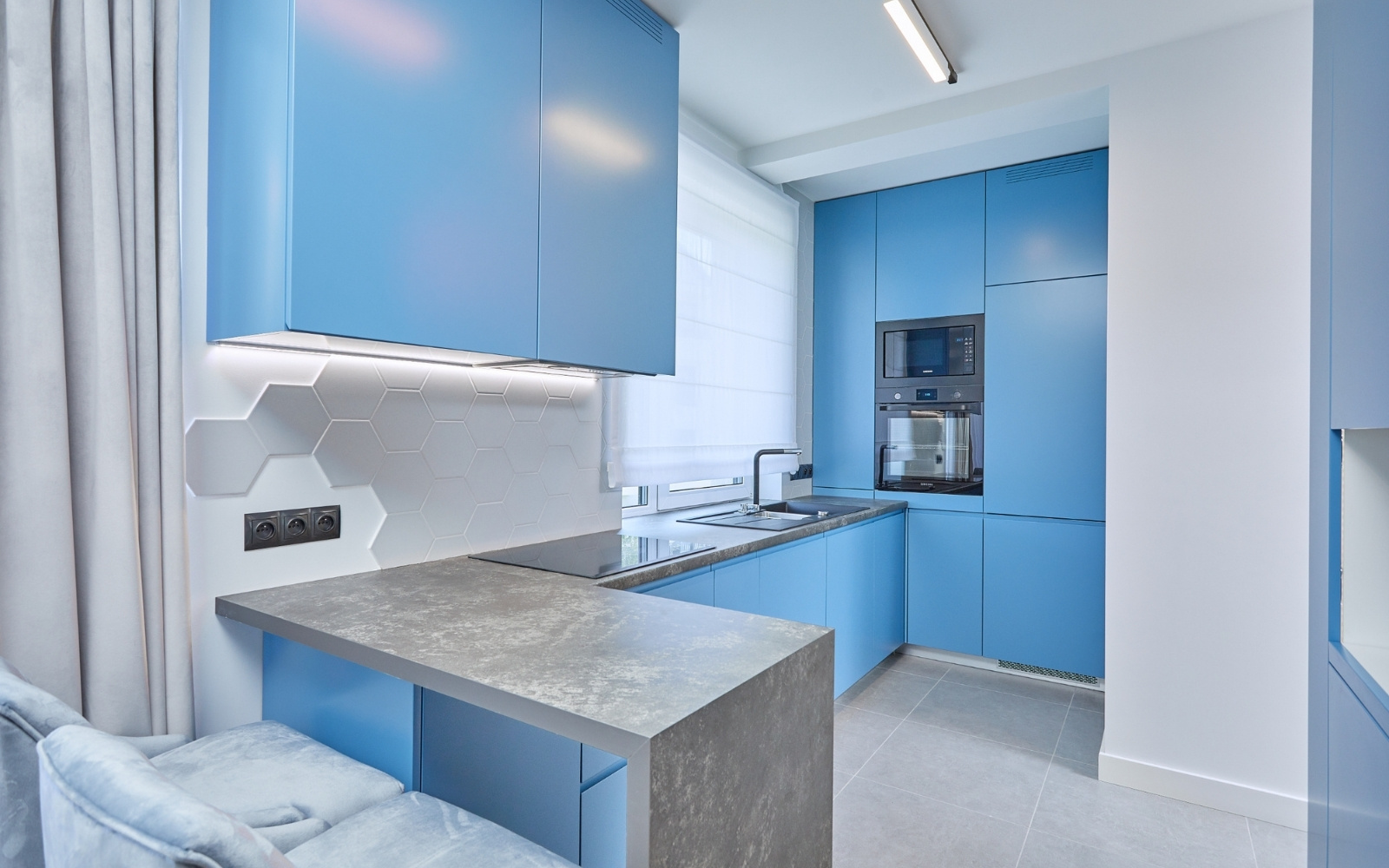 Wooden kitchen countertops
The next material discussed is wooden countertops. This elegant-looking material is a natural, timeless means of interior design. It works well in classic interiors as well as in modern apartments. Before buying, however, you should choose the right shade, type of wood, consider whether it should be solid or glued wood and decide how to protect the outer layer by oiling or varnishing. All these elements are important because wooden worktops require attention: care and maintenance.
Wooden countertops – what kind of wood?
The most popular species used in Poland for the production of kitchen worktops are oak, beech and ash. These are durable and harder materials compared to, for example, poplar and pine, which are too soft to be used for the production of countertops. Some species of exotic trees better tolerate high temperatures and increased humidity in the kitchen, for example: mahogany.
Wooden tops – the difference between solid and glued wood
By definition, kitchen worktops made of glued wood are more resistant to external factors. Additionally, solid wood can crack and warp over time. However, the "natural wood" effect is more visible on solid wood, so if we wanted a designer effect, solid wood could be a better choice.
Advantages of wooden countertops
Natural material
It adds warmth and style to the interior
Easy to process and docince
Possibility of renovation and refreshing of the material
Disadvantages of wood countertops
They require proper care and protection against, among others: getting wet, damage
Relatively low resistance to scratches, minor damage and high temperatures
Stone kitchen countertops
Granite is a popular material for stone countertops. It is an extremely durable and resistant material that gives interiors prestige. It comes in a polished structure and a satin, non-uniform texture, where the former emphasizes the color and the latter gives the surface a "gloss". The second treatment method is brushing, and the material is more matte.
Advantages of granite countertops
An elegant and aesthetic material associated with luxury
Non-flammable – it is a material resistant to high temperatures
Highly durable and resistant to scratches, abrasion and other mechanical damage
Granite has a natural resistance to water and moisture
Disadvantages of granite countertops
High price of the material
Granite countertops are heavy, which requires professional installation and reinforcement of the kitchen furniture structure
Natural stone is a material that is cool to the touch
Possible serious damage requires disassembly and professional repair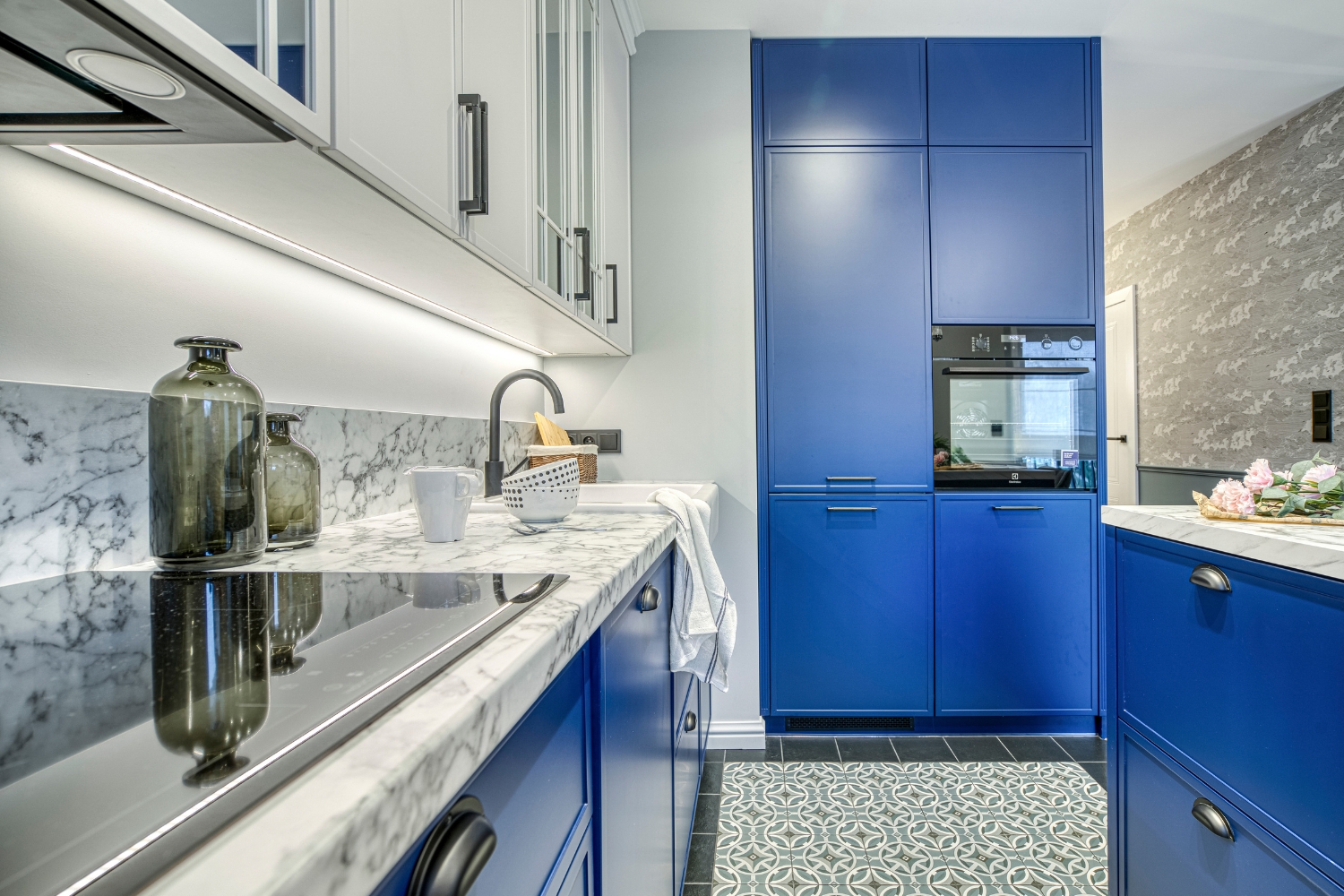 Kitchen countertops made of quartz conglomerate
Kitchen worktops made of quartz conglomerate are distinguished by high resistance to damage and high temperature. The material is a combination of altered quartz and polyester or acrylic resin. Made of natural aggregate, quartz conglomerate countertops are a much lighter material than stone countertops. Due to the production method, there are no visible joints in the case of conglomerate worktops. Kitchen countertops made of quartz conglomerate look tasteful and elegant, and the use of such materials certainly translates into the reception of the entire space. Like stone countertops, they are strong and durable, but also lighter and more flexible.
Advantages of countertops made of quartz conglomerate
Beautiful and elegant design, high quality material
A wide range of available color and thickness options
Highly resistant to impact, water, hot pots and scratches
Allows easy connection to the sink
Disadvantages of quartz conglomerate countertops
Quite high price per square meter, material
Requires professional processing and assembly
With strong exposure to UV rays or some acids may become discolored
At the temperature of the dishes above 200 degrees Celsius, the resin may be welded (therefore, it is recommended to use washers when lining the pots)
Quartz sinters as countertops in the kitchen
We have prepared a separate article on the use of quartz sinters in interior finishing, the link to which is attached here. In addition, we present a video of a turnkey apartment in the "you enter and live" standard, where, among others, high-quality quartz sinters were used, burned and mounted to finish the walls in the bathroom.