Interior design at SaniWell
Interior design is the first stage of cooperation as part of a comprehensive turnkey service "you enter and live". This means that each interior finished on a turnkey basis by SaniWell within the framework of the aforementioned "walk in and live in" standard is first professionally designed by a dedicated architect. What's more, solutions, materials and equipment are selected to individual customer expectations. So that they meet the quality and financial expectations. After all, when finishing the newly purchased property turnkey, we want its interior to fully meet our tastes.
It is worth noting that SaniWell brings together architects and designers working in various styles. Therefore when designing interiors in SaniWell, the architect adapts to the client's preferences, they can offer personalized and original solutions for the interior. What's more, the "you enter and live" service is the most personalized design and finishing option, which is why customers who decide on services provided by SaniWell specify the scope of cooperation: from interior design, through renovation and construction works, to full and comprehensive equipment and furniture .
We invite you to familiarize yourself with our projects, each time prepared on the basis of our clients' guidelines.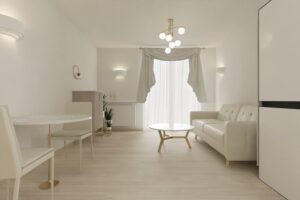 Interior design – what is worth knowing?
Some customers are not convinced whether it is worth having an interior design. However, they pay attention to the prices and the longer time associated with the renovation (professional interior design takes up to three months). Turns out that's not quite right. Thanks to the design, you can avoid the vast majority of problems that often occur during renovation.
First of all, it is worth starting with the fact that having a project, the construction coordinator and interior designer will be able to supervise the work process instead of the client. This requires negotiating and bringing to the attention of on-site staff if things don't go as planned. The vast majority of people would prefer to avoid it.
The second reason is the ability to complain about the service. In the absence of a project and a written contract, we are not able to assert rights. Even more so if we cooperated with a private person, not a company. A small saving may turn out to be very apparent in this case.
Individual interior design – is it worth it?
It is also worth paying attention to whether the arrangement presented by the designer is personalized. It often happens that some people present ready-made projects and copy them to the "ground" of a new apartment. At first glance, this allows you to save a lot, not only money, but also time … but in the vast majority of cases it will not give such a good effect as when the interior design is prepared from scratch – "tailor-made". Certain things can then be added "by force", which will not produce a good effect.
Interior design Krakow and Katowice
We encourage you to check the projects and works done by us and the designers cooperating with us. SaniWell is a guarantee of high quality. We invite you to cooperate both in interior design, renovation and turnkey interior finishing.
SaniWell offices are located in Krakow and Katowice, while we provide interior design and finishing services throughout the Małopolskie and Śląskie voivodeships. Interior design can also be carried out fully remotely (online).