How to take care of golden fittings? How to care for and maintain colored fittings?
Colorful fittings, just like any other bathroom equipment element, are an element of design and its choice affects the way the whole interior is perceived. However, regardless of whether it is a black or a gold faucet, the choice of colored fittings is often associated with a constant need for cleaning. How to properly take care of black and gold fittings and how to care for the devices so that they always look beautiful in our bathrooms?
Which fittings to choose?
It is important not to be guided not only by the design and the manufacturer when choosing a bathroom fixture. The material from which the device is made is also important. Aesthetics and consistency are very important, but it is worth checking the functionality of the chosen fittings. It should be remembered that the shades of gold, brass or black may slightly differ from each other if we decide to choose individual devices from different manufacturers.
Galvanized coated metals are characterized by high strength and resistance to damage. It is important to choose the right size of the faucet for the sink – too high can result in water splashing. Too low or behind a short spout will be inconvenient to use. When choosing gold fittings, it is also important to choose how to open the water: the switch-on system must be easily accessible and fit well with the style of the bathroom.
Golden batteries – how to look after them?
The most important thing when taking care of the appearance of both golden batteries and other colors is regular and systematic cleaning. If left unattended, the battery quickly becomes covered with limescale which is difficult to remove. Moreover, by cleaning the faucets in an improper way, it is easy to damage the outer layer, which affects the aesthetics of the fittings. Special measures can be of help in the systematic maintenance of bathroom fittings. Agents enriched with substances forming a hydrophobic coating are particularly effective. You can also take care of golden batteries using home methods.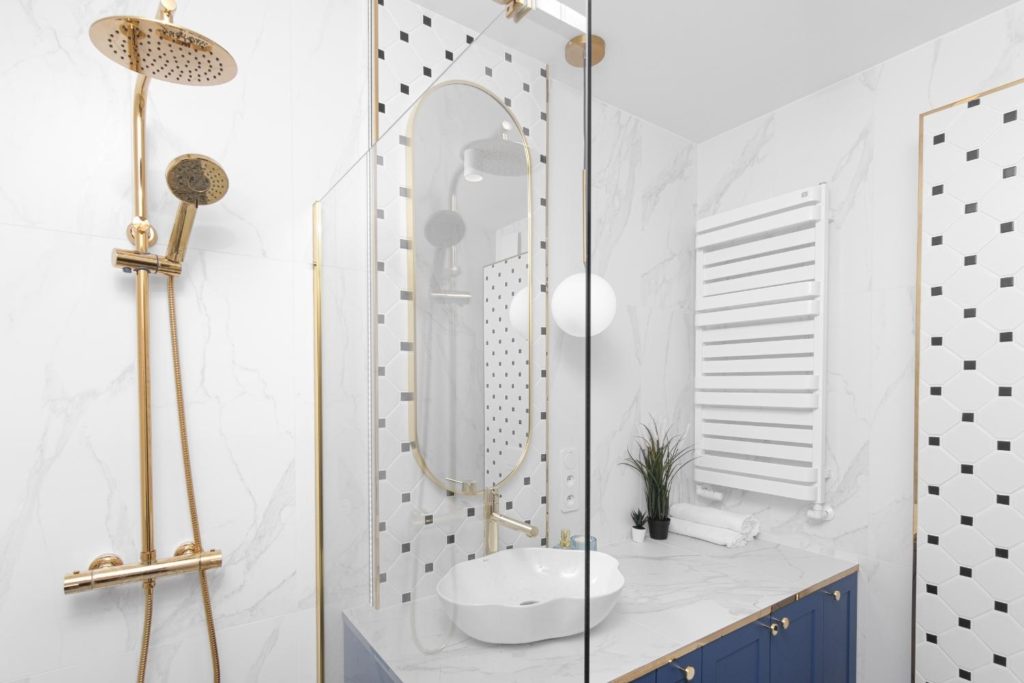 Golden fittings – how to clean them?
For daily cleaning of gold fittings, you can use household remedies such as dishwashing liquid or a solution of water with vinegar. However, it should be borne in mind that vinegar that has not been mixed with water must not be used alone. A cotton ball moistened with a solution of water and vinegar should not be in long contact with the battery as this may discolor the device. However, to take care of the color of the fittings, it is recommended to use specialist agents. These are preparations that will take care of the surface and color of the battery. These can be brand measures, for example: Grohe GrohClean
Golden fittings – which companies?
Choosing the right gold fittings is not easy. There are many manufacturers on the market that offer colored fittings. The market leaders for colored fittings are the brands Grohe, Tres and Hansgrohe, especially the Axor line. These are brands that create durable, safe and innovative products. It is advisable to pay attention to the opinions on the web about, among others: the website. These brands are distinguished by high reliability. Omnires is a Polish brand offering colorful bathroom faucets, including golden ones.
Each of the above manufacturers has a wide variety of patterns, shapes and shades of colorful bathroom fittings in their portfolio.